Publishing
A message from the principal:

"As owner, publisher, and Deputy Editor of the business to business magazine IDMi, (Information and Document Management international) and coupled with experience in the IM industry, intelligen is ideally placed to offer a wide variety of print and digital publishing services. As IDMi is a bi-monthly publication, this gives us the capacity to add to that title. So if you are after an in-house magazine, company report, or full-blown customer loyaly magazine - we are here to help. In addition, our specialist print partners handle short runs at keen prices, so it may not be as expensive as you think to have your own corporate tome."

John Baker
Principal, Intelligen

Publishing Services List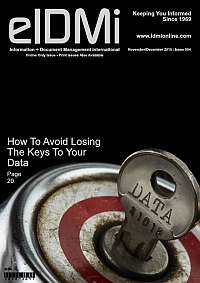 eIDMi Cover
From a digital-only edition of IDMi

For ad-hoc, contract or consultancy basis, either short, medium or long-term, our key competencies include:
Pre-press page origination to international standards
Article research, synopsis and full work-up, with photography where/if required
Print Management
Fulfilment Management
Technical authoring (maintenance, technical, system, and training manuals)
Article re-prints
Article re-works
Graphics
Layouts
PDF publishing online
Resources
We can provide resources for publishing projects of any duration. As a limited company with all of the correct professional and public liability insurance in place, this can be for a day a week, a month, a year or longer.
We can also cater for ad-hoc day or limited days per weeks if the budget will not support a person on site all of the time.
Flexibility is paramount - and we offer it.
Areas Covered
B2B (Business to Business)
B2C (Business to Consumer)
Loyalty magazines
Niche/specialist magazines
Additional Skills
Also available on an ad-hoc, contract or consultancy basis, are the following skills:
Multimedia:
Adobe PhotoShop, digital photography, rostrum photography, digital video editing, web animation
Contact Details
Principal: John W Baker
Email: johnbaker@intelligen.co.uk
Phone: 0044 1330 820030
(Direct Line)
Mobile/Cell: 0044 7833 247217
(vodafone UK or international rates apply)
Experience Profile
This is available on request. Please feel free to contact
johnbaker@intelligen.co.uk for further information.
Day Rate Information
This will vary depending on:
- type of work
- site location in relation to the intelligen office base
- subsistence
- travel expenses

Minimum booking 1 day. (Negotiable depending on location.)

More information is available on request. Please feel free to contact johnbaker@intelligen.co.uk for further information and a NO OBLIGATION discussion.